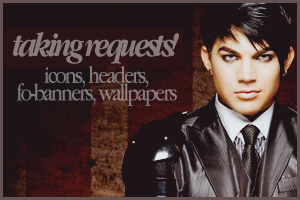 Request icons, headers, wallpapers or friends only banners here. :) Any and all fandoms!
CLOSED!
This requests post will close on Sunday August 30th– I'll post your request in this post once I'm finished with it =)
Please provide:
• HQ or MQ pictures.
• The sizes for the headers, wallpapers and FO banners.
• If you want text added, what it should say?
• If you'd like specific colors to match your layout, what colors would that be?